Occupy
Submitted by spamsucks on May 14, 2012 - 3:39am


May 2012
Trotskyism vs. Social Democracy and Anarcho-Liberalism
The Left, Labor and Occupy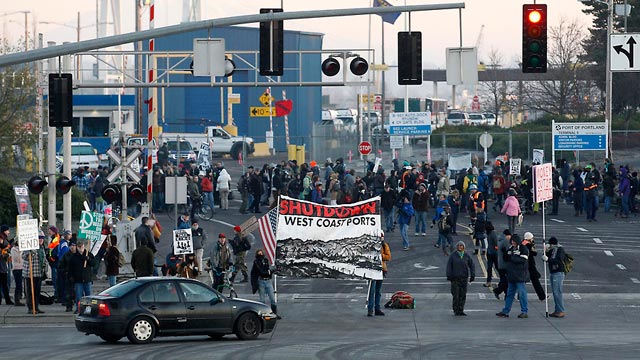 Occupy protesters in Portland picket Terminal 6 on December 12. (Photo: Rick Bowmer/AP)
Six months after Occupy Wall Street began – when a few hundred people sparked worldwide protest with a march and sit-in in lower Manhattan against political corruption and corporate greed – OWS was back. And four months after Occupy encampments were brutally evicted around the country, the police were there to greet them. Demonstrators chanted "this is what democracy looks like" as cops dragged scores out of Zuccotti Park in downtown Manhattan. More accurate would have been "this is what a police state looks like." At the same time, the sharpening internal contradictions within the Occupy movement were also on display.
Submitted by OccupyThePress on December 20, 2011 - 2:25pm
Occupy Denver was raided last night after failed talks with the new Police Chief White. Roughly 200 riot cops came into the park at approximately 11:15 pm evicting the Occupiers into the winter night. The attack was very quick and with no warning. Arrests were made in the park, and one dwelling was set on fire by Occupy.
The Occupiers were pushed to the corner of 13th and Broadway shortly after the raid. Confronting the riot line, the Occupiers "Tebowed" when the police made a move forward. The roving group then made their way down Broadway. Protesters did allow traffic to keep moving but did block police vehicles when offered the opportunity.
The group then made their way into the Capitol Hill neighborhood chanting "wake up, Denver, wake up." Riot police followed throughout the neighborhood. Upon making their way to Colfax, the Occupiers shut down the street, but again let civilian traffic pass.
In a contentious decision the DPD sent the dump truck with Occupy belongings down Colfax with the hazard lights on - thus provoking the now homeless people to block the truck and jump in the back - quickly attempting to toss belongings out of the back and onto Colfax. Many Occupiers felt this was a clear tactic meant to provoke them. Regardless, riot police quickly swarmed the area, making a riot line and pushing the Occupiers further up Colfax, away from downtown.