communism
Submitted by spamsucks on May 14, 2012 - 3:39am


May 2012
Trotskyism vs. Social Democracy and Anarcho-Liberalism
The Left, Labor and Occupy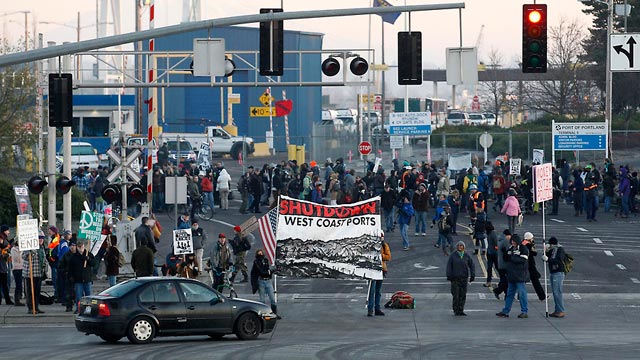 Occupy protesters in Portland picket Terminal 6 on December 12. (Photo: Rick Bowmer/AP)
Six months after Occupy Wall Street began – when a few hundred people sparked worldwide protest with a march and sit-in in lower Manhattan against political corruption and corporate greed – OWS was back. And four months after Occupy encampments were brutally evicted around the country, the police were there to greet them. Demonstrators chanted "this is what democracy looks like" as cops dragged scores out of Zuccotti Park in downtown Manhattan. More accurate would have been "this is what a police state looks like." At the same time, the sharpening internal contradictions within the Occupy movement were also on display.
Submitted by Anonymous on July 30, 2008 - 11:49pm
The Dangerous Logic of Blocking Protests in the Name of Electing Obama
by Sunsara Taylor
Millions believe Barack Obama is the anti-war/anti-Bush candidate. In reality, Obama is proving to be the candidate most effective at getting all-too-many "leaders" of the anti-war movement to shut up and even urge others to go along with wars for empire.